Our 

Mission
Core Volleyball Hawaii's mission is to provide our youth with the core fundamentals of volleyball as well as advanced techniques to improve their skills and knowledge of the game through formal clinics.  We offer a learning environment that fosters personal growth and development, while striving to instill work ethic and commitment as it applies to volleyball and everyday living.  The importance of teamwork, time management, sportsmanship and dependability are emphasized.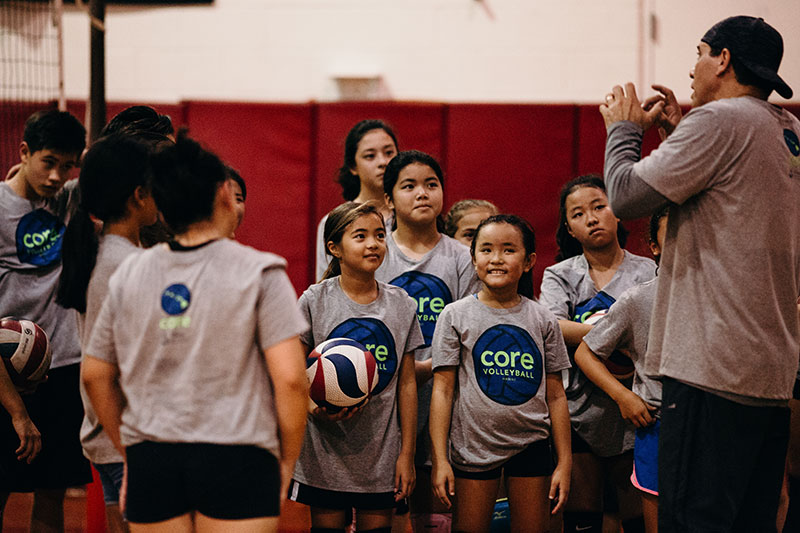 Our 

Philosophy
Core Volleyball Hawaii is completely dedicated to providing our athletes with the technical and tactical training needed to reach their highest possible potential.  We attempt to help children, regardless of age or ability, to achieve their maximum performance.  Player development is an ongoing process with the most important element being training individual skills.  This is why we teach skills and concepts systematically and efficiently, while always keeping in perspective, our players' long-term growth and health.
With over 40+ years of combined coaching experience at the club, high school, and collegiate levels, Core Volleyball Hawaii's coaching staff, under the direction of Guy Kaniho, (former Kamehameha Schools' Volleyball All-State, collegiate player, Coach-of-the-Year), are committed to setting, working towards, and achieving the highest standards.
Passion
We instill desire for the sport that encourages volleyball for life
---
Integrity
We act in an open, fair, consistent, and transparent manner
---
Enthusiasm
We enjoy coaching and get excited about our players' success